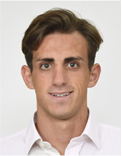 Visiting Masters Student
E19-562, Department of Chemical Engineering
Massachusetts Institute of Technology
77 Massachusetts Ave. Cambridge, MA 02139
E-mail: lifilipp@mit.edu | Phone: 617-324-8460
Education:
M.Sc. Process Engineering, ETH Zurich, Switzerland.
B.Sc. Chemical Engineering, Politecnico di Milano, Italy.
Research summary:
As a visiting student, I am working on my Master's thesis. The project I'm involved in deals with polymorph control in MSMPR crystallizer. I'm trying to find out the experimental conditions to produce selectively by cooling crystallization the orthorhombic form (form II) of Paracetamol/Acetaminophen.
Keywords:
Continuous crystallization, paracetamol, acetaminophen